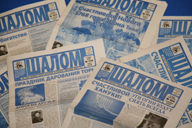 Shalom Family Magazine
Shalom Family Magazine, is the first Jewish monthly publication to be published in Russian in the Midwest. Our goal is to provide unique and exciting intellectual content as part of our mission to strengthen Jewish life, inspire spiritual exploration, stimulate discussion on important issues and serve the needs of our growing community.

We bring Jewish news from around the world  as well as holiday traditions, recipes, local news to the Russian Jewish Community since 1977. A readership now close to 17000 anxiously awaits Shalom Family Magazine every month. 
---
"Шалом" постоянно рассказывает о важнейших событиях и памятных датах нашей истории, еврейских праздниках и традициях. "Шалом" имеет корреспондентские пункты в Нью-Йорке и Филадельфии, корреспондентов в Израиле, Германии, России.
С нами сотрудничают известные писатели, публицисты, ученые.Согласно социологическим исследованиям нас читают более 100 тысяч человек. Они живут в Chicago, New York, Los Angeles, Milwaukee, Detroit, Denver, Houston, Boston, Indianapolis, Cleveland, St. Louis, Dallas, Atlanta, Minneapolis, Seattle, Harrisburg, Overland, Baltimore, Ames, Mayfield, Rochester и других городах США.
С помощью "Шалома" вы можете поздравить своих родных и близких с важными событиями их жизни. Мы публикуем также соболезнования, объявления, рекламу. Свои статьи, замечания и предложения, пожалуйста, направляйте электронной почтойпо адресу: [email protected].